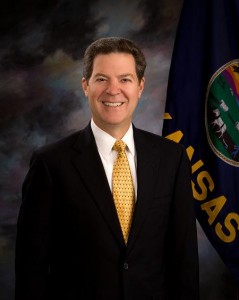 Kansas Governor Sam Brownback gave his State of the State address Wednesday night in Topeka, and his message was one of transition for Kansas.
Governor Brownback  said the important part of the new transition was growth.
The Governor's State of the State address  highlighted his plan to lower individual income tax rates for all Kansans to help obtain that growth.  The goal is to bring the tax rate down from 6.45 percent to 4.9 which would make it the second lowest in the region.  Governor Brownback also revealed that his fiscal 2013 budget would produce a balance of 465 million dollars, and he would use some of those funds to help reduce state debt.
Kansas House Democratic Leader Paul Davis said in a response to the state of the state address that the Governor's plan would increase other taxes like sales taxes to cover costs, or eliminate services and in particular school funding to drastic lows.