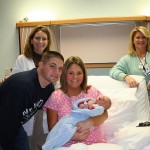 The first baby of the new year at Geary Community hospital has been announced.
Michael and Sarah Beasley of Fort Riley announced the birth of their son, Braylon Allen Beasley, who was born on January 2nd at the Martha K. Hoover Women's Health Center in Junction City.
Braylon weighed 9 pounds and was 21 inches long. He joins his siblings,  Kaelyn Beasley, 4,  and  Haylee Beasley, 2,  at home.
The maternal grandparents are Mark and Terri Watson of Maryville, Tennessee. The paternal grandparents are Fred and Trina Beasley of Richmond, Virginia.
The family received a large basket of baby clothes and toys from Geary Community Hospital.