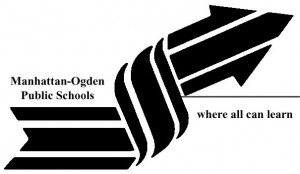 The Manhattan – Ogden school board started off their meeting with more construction issues as Program Manager Trisha Brooke-Fruendt presented a change order for Lee Elementary's library furniture.  Brooke-Fruendt also presented the bids for the asbestos removal at Marlatt and the Manhattan High School East campus.  Both items passed unanimously.
Architect Bruce McMillan  also presented the board the construction documents for the Manhattan High School East project.  The board again passed this plan with a 7-0 vote.
Superintendent Bob Shannon gave the board a legislative update concerning the House Bill 2439 and about the Governor's education finance proposal and teacher evaluations.  No action was taken as this was an informative item.
The board unanimously agreed on the redistricting map Q4, which will be put into action Fall of 2012.  Though, this item was agreed upon, the issue of transfers was again brought up.  The board will revisit student transfer policy and procedures during their next regular business meeting on February 15, 2012.
Carol Adams, Executive Director of Teaching and Learning for USD 383, presented two action items.  The first was final approval to purchase 310 iPads to be used for learning labs.  The board voted 5-1 with Herrman voting against.  The second item was the summer programs for 2012-2013.  The board unanimously passed the A1 item.  This item will return to the board at a later date.