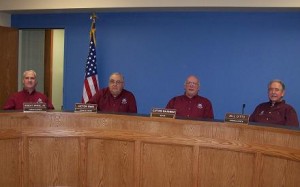 The coming expansion to Caterpiller in Wamego is also having a bit of a boon to the city's housing market
Wamego City Manager Merl Page presented a request Tuesday night to city commissioners from Road Runner Developers, LLC for Industrial Revenue Bonds (IRB's) not to exceed $6 million.
Road Runner Developers Charlie Bush said he's been meeting with Caterpiller Work Tools people, and because of their planned expansion and the addition of 120 new employees, company officials were concerned about residential housing. According to Bush, the company's goal is to provide quality housing at a price competitive with the surrounding communities to keep those new residents in Wamego. He presented a plan to build a total of 6-12 duplexes in two phases that will be the same design and quality of Junction City's Hunter's Ridge addition.
The Commissioners were all in favor of the request. Page made it clear the project will not have a property tax exemption associated with the I-R-B issue.