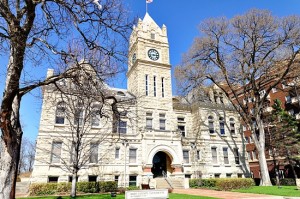 UPDATE 2: Psychologist John Fajen took the stand in the hearing against Cole Drake on if he should be tried as an adult or juvenile on Friday.
In his August 2011 evaluation of Drake, Dr.Fajen formed the opinion that Drake should be tried as an adult on the fact that he is a "very disturbed child" and "a successful criminal"
"Without a conscience the only thing that can save him is structure and the threat of consequence," Fajen said to the court.
Psychologist Steven Peterson took the stand for the defense and stated that Drake lacked structure in the home, suffered physical and emotional abuse and that Drake's brain is still developing so his future behavior cannot be predicted and cannot be tried as an adult.
When the defense took it's turn, they brought forward public officials to discuss juvenile offenders and counseling services.
Public officials from the Kansas Department of Corrections told the courts of the different rehabilitation and counseling services they offer to juvenile offenders. Public officials also spoke of the typical day juvenile offenders have and that the main goal was to have these offenders rehabilitated by the time of their release.
The arraignment for Drake will be announced at a later date
UPDATE: KMAN's Jeff Burkhart reported from the Riley County Courthouse just after the morning hearings concluded.
Both the prosecution and defense spent much of the morning attempting to establish Drake's behavior patterns as a young adult.
Witnesses brought in included former teachers, principals, and correctional officers from the Geary County juvenile detention center.
Drake's father Ian was also called to the stand. When asked by the defense whether or not he felt his son was attempting to act older than his true age, Drake's father replied quote "Just the opposite, He wanted to be a kid and just needed some more attention."
The hearing will resume later this afternoon and we'll have more details as they become available
ORIGINAL STORY:
Will he face court as a juvenile or an adult?
That is the question a hearing involving Cole Drake, a Manhattan teenager charged with first degree murder, is trying to ascertain.
Numerous officers, detectives, and classmates were called to the stand Thursday to provide information about the murder of Tyler Dowling in April of 2011.
Lola Oppy was the last person, besides Drake, to have contact with Dowling.  Oppy informed the courtroom that she was texting Dowling throughout the day of the incident up until around 11:52 P.M. that night.
Besides Oppy, other classmates of Dowling and Drake provided information about conversations they had with Drake prior to the incident, as well as the day after the incident.  The statements made by the students matched the statements they gave to the detectives back in April.
Court proceedings resumed Friday at 9:00 A.M.