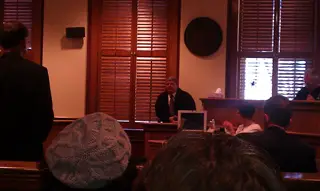 21st district magistrate Judge William Malcolm ruled on Friday afternoon that  19 year old Micheal Blake Layne will be tried for 1st degree murder.
Layne's preliminary hearing on Friday included testimony from 18 year old Reyna Youdath who told the court her side of the story on the events that unfolded on and around the 6th and 7th of December 2011.  Other testimony included several detectives on their involvement with the investigation, and the evidence brought forward from their efforts.
Youdath has agreed to testify for the prosecution and received a plea agreement that would reduce her sentence for involvement in those events.  Those events include her part in a robbery that allegedly involved Layne the morning before the murder of Steve Freel took place.
Layne's trial is set to begin on the 21st of February at 2:30 pm in Division II court.