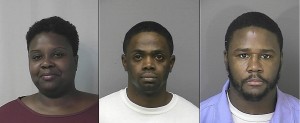 Three people convicted in a 1997 murder in Riley County have been passed over for parole.
Delisha Branch, 40, Duereal Campbell, 32, and Shakeer Davis, 32, had public comment sessions in January, but a check of the Department of Corrections offender list indicates the next possible parole date for Campbell and Branch is now March of 2017 and for Davis in March of 2015.
The three were convicted in connection with the February 1997 murder of Wanda Norman, 44, of Manhattan at Norman's home at Countryside Estates.
In addition to murder-related charges, the three were convicted of aggravated robbery.