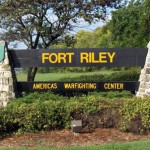 FORT RILEY, Kan. – High winds damaged six aircraft located on Fort Riley's Marshall Army Airfield a little after 6 Wednesday evening.
No personnel were hurt in this incident.
The aircraft, which belong to the 1st Infantry Division's Combat Aviation Brigade, were in pre-flight status at the time in support of training flights scheduled for the day.
In addition to the aircraft, a trailer and several buildings located on the airfield received minor damage.
The battalion continued training Thursday.
The incident is under investigation.