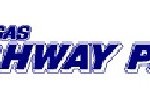 One person was injured in a motorcycle accident in Geary County Sunday afternoon.  Daniel Villa, 30,  of El Paso, Texas, was taken to Stormont-Vail in Topeka, following the accident on K-57, 12 miles southeast of Grandview Plaza.
The Kansas Highway patrol reports Villa's motorcyle was northbound and entered a curve on the roadway, when for an unknown reason Villa left the roadway and entered a ditch. The accident was reported shortly before three Sunday afternoon.
A condition report is not available although Stormont-Vail confirmed Villa is a patient there.