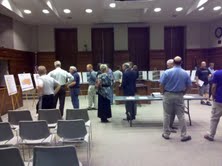 Between the hours of 5 and 8 pm on Monday, people were given the opportunity to wander in and out, examining the possibilities of what the new Manhattan Regional Airport Terminal Expansion and Remodel might look like.
Spread out around the room were 14 boards that showed floor plans, three design concepts and the parking lot expansion.
Mead & Hunt representatives were stationed to go over any and all questions that community members posed while also listening to comments.
On the front table, questionnaires were available for those who wanted to leave comments and suggestions for things that may not have been thought of.
The very preliminary designs showed different aspects of what could work within our community.
There was the rolling hills design, the lift off design and the unfiltered design.  Each took a different aspect of Manhattan, whether is was the landscape or other buildings to compare to.
Peter VanKuren, airport director, said that they would take the comments and work to bring them together before bringing a more complete design before city commission later this month.