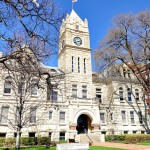 While a preliminary hearing had been scheduled Wednesday morning in a first degree murder case in Riley County District Court, only a brief hearing was held. The hearing dealt with the attorney who will be representing Daniel Parker, who is charged with the first degree murder of  Fredrick Beverly, 21.  The incident occured on New Year's Day and Riley County Police refer to it as a "drive by" style shooting.
In a previous hearing, the first degree felony of murder charge was expanded.  The allegation that it could have been first degree premeditated murder was also filed, meaning the level of murder remained the same, but the theory behind the murder changed.
Parker's defense attorney Larry McRell requested to withdraw from the case  because of conflict of interest.  McRell said "the right decision is sometimes not the easy decision".  McRell asked the court to appoint new counsel for Parker.
The Head of the Capital Defense Team in Topeka, Ron Evans, has offered to step in as Parker's attorney.
The court signed the order for Evans to represent Parker and a new preliminary hearing was set for September 19th at 9:30 a.m.