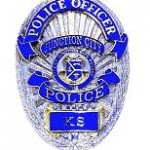 A Junction City man has been arrested on first-degree murder and aggravated battery charges in connection with an early morning shooting at a National Guard armory.
Police say Sterling Hickman, 33,  was taken into custody at noon Saturday. He is accused of killing 25-year-old Antonio Maxwell and shooting 30-year-old Jamaica Chism, both of Junction City. Police say the shooting happened at 3:51 a.m. Saturday at the armory, which had been rented out for an event that started at midnight and ended at 3 a.m.
Maxwell was pronounced dead at Geary Community Hospital. Chism was taken to a Topeka hospital, but no information on her condition was immediately available.
Kansas National Guard spokeswoman Sharon Watson says the armory had been rented by a private group and the guard was not involved.
Police believe a disturbance occurred during the event which let to the victims being injured. Police believe a number of the people in the parking lot saw what occurred, and are asking those persons to come forward and assist with the investigation. Anyone with information can call Detectives at the Junction City Police Department at 785-762-5912 or they may call Crime Stoppers at 785-762-TIPS.