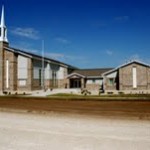 The Church of Jesus Christ Latter Day Saints in Wamego is getting ready to open their new facility in just over a week.
Dr. Jim Gardner serves as Public Affairs Representative for the church shared with KMAN information on their upcoming event.
"We're going to have an open house at our new Wamego Chapel, " Gardner says. "It was just completed and cost the church $2.7 million."
Gardner adds that he is excited for the LDS community in Wamego to have the facility.
"They have been meeting previously in a rented facility since a few years ago and this building is really going to be a blessing for those folks." Gardner says.
The open house will be Saturday, August 18th and will run from 11am to 6pm that evening. On-goers will be taken on a tour of the facility and will also have the opportunity to learn more about the church's faith.