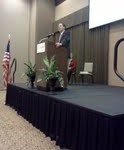 Leaders in the aging service field are in Manhattan for an annual conference on policy and regulatory matters. Secretary Shawn Sullivan from the Kansas Department for Aging and Disability Services addressed the group Thursday morning. Most of his presentation dealt with KanCare, with Sullivan telling KMAN the deadline is approaching for initiation of the program, which is January of 2013. An estimated 45,000 seniors in Kansas are impacted by changes in Medicaid and the state's Kan-Care program.
It was all part of the LeadingAge Kansas Policy and Regulatory fall conference, being held in Manhattan, which Sullivan describes as a good opportunity for long-term care providers in the state.
Governor Sam Brownback was also in attendance and addressed the group about KanCare. The Governor says the plan deals with an attempt to keep people well longer, while holding down costs. Brownback says prior to the integrated care model, the growth cost was seven percent a year, which was difficult to sustain.
On another subject, Brownback talked about Kansas' population, which has been on a steady downward pattern the past 30 years. According to Brownback the mid '60's through the mid '70's, the state was the 28th most populous in the nation, and is now the 33rd, and headed to 35th by 2020 if things don't change. Brownback says that's why some new policies for the state to encourage growth such as the rural opportunities zones and changes in tax policy, particularly for small businesses.
Brownback has also been in town this week  for an energy conference, and for a meeting of his economic advisors on the Kansas State campus.