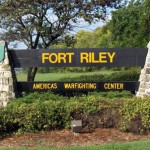 Post officials will conduct a 9/11 Commemoration Ceremony at 10 a.m. Sept. 11 at the Global War on Terrorism Monument in front of the U.S. Cavalry Museum.
The purpose of the ceremony is to honor and remember those who were killed on the 11th of September 2001 as well as recognize the sacrifice of Soldiers who defend our freedom by rededicating the GWOT Monument to which names are added each fall.
The names of 16 Soldiers who were deployed or mobilized through Fort Riley and either killed in action or died of wounds, will be added to the monument during this ceremony.
The guest speaker will be Brig. Gen. Don MacWillie, 1st Infantry Division and Fort Riley Senior Commander.