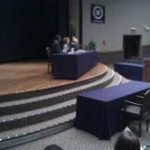 The Kansas Court of Appeals brought proceedings to Manhattan Wednesday, with the three-judge panel hearing four appeals in Forum Hall in the Kansas State Student Union. K-State's Pre-Law Adviser, Daralyn Arata  tells KMAN  attorneys argued on each of the cases, with judges asking questions, taking the cases under advisement, and then writing opinions later.  
The event coincides with U-S. Constitution observance day.  One of the appeals dealt with a Pottawatomie county case from 2011 and Assistant Pottawatomie County Attorney Jason Oxford represented the prosecution in the matter. It was the first time he'd presented arguments to the Court of Appeals.
Much of the discussion dealt with whether the defendant in the DUI case, Samuel Quakenbush had a speedy trial, as the case  originated in Riley county before it was discovered the incident actually occurred in Pottawatomie County. Oxford argued the cases were separate, which means Quakenbush was brought to trial within the 180 day time frame required.