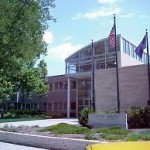 Manhattan City Traffic Engineer Peter Clark gave a detailed presentation on several safety issues around the 2000 block of College Heights Toad. Those included a study which found the visibility around intersections to be severely lacking. To correct the problems Clark and city staff cleared vegetation around the area, and advised changes to parking and one multi-lane stop sign to help correct several of the safety issues.
Nearby resident Kent Stewart gave some objections to the plan citing the need for more study of the area, and impact on residential parking. Other residents stood behind the ordinance. Commissioner Wynn Butler had reservations about the need to go forward with the parking portion, but supported more stop signs to hopefully slow some of the traffic in the area down. The commissioners voted three to one to enact the proposed ordinance, and commissioner Butler cast the dissenting vote.
Manhattan Finance Director Bernie Hayen briefed commissioners on the need to continue the expanded role of the Manhattan investment board. The board handles investments for the city, and Hayen gave an overview of the types of low risk investments the board has engaged in to grow city revenues. Hayen also gave examples of potential investments that might have a better return in the future. Commissioner Richard Jankovich was able to help explain several of the options, and explain the banking situation that exists at this time. The commission voted unanimously to approve the continuance of the expanded roles for the Manhattan investment board.