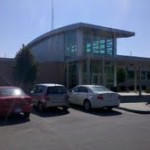 A Manhattan man found himself in jail after a trip to the hospital Wednesday evening.
Ryan Savener, 31, faces two counts of arson in connection with a  July case in Clay County. Clay County Sheriff Chuck Dunn indicates Savener was taken into custody after Riley County law enforcement authorities responded to a reported domestic disturbance in southeast Manhattan, involving Savener's girlfriend,  Megan Roe, 25. Roe was arrested by Riley County Police on an aggravated battery charge, with her bond set at $2,000.
Savener was treated at Mercy Regional Health Center for a cut to his arm, but was then released. His bond on the arson charges was set at $5,000.
Dunn confirmed the two counts involved arson on brome grass bales July 14th, with a pickup truck belonging to Savener also set on fire.
###
A Lawrence woman was taken into custody by Riley County police Wednesday evening on a warrant for failure to appear on an original charge of prostitution and sexual-related charges.
Adriane Shuckahosee, 30,  was arrested shortly before 5:30 p.m., with bond set at $10,000 .
###
Riley county police indicate an unattended death case was reported in the health club area of a Manhattan Apartment complex Wednesday morning.
RCPD responded to a report of medical distress in the 500 block of Stone Drive, to find Brennen Johnson, 24, who reportedly had a significant health condition. Johnson's death is considered to be from natural causes and is not reportedly suspicious.