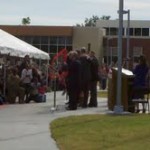 Fort Riley has seen a new addition to its scenery as the new Seitz Elementary has opened.
On Friday, the official ribbon cutting ceremony occurred with a number of people in attendance including Governor Sam Brownback, Senator Jerry Moran, Under Secretary of the United State Army Dr. Joseph Westphal, Brigadier General Don MacWillie and the name sake of the building General Seitz.
"Gen. Seitz was chosen [as the name sake]because of his committment and stead-fast support to the education of all Geary County students, and we are honored to be able to use his name," the district said in a press release.
This new school has been many years in the making and has revealed that the schools of USD 475 are still overcrowded.
Senator Jerry Moran commented that the new addition of the school would be a beneficial tool for Fort Riley if another BRAC does happen in the future.