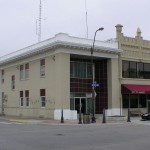 The Wamego City Commission received a nice surprise. At Tuesday's meeting, City Manager Merl Page introduced Flint Hills Regional Council Executive Director Ty Warner, who presented a check for over $7,000 , as a partial reimbursement of Wamego's contribution to the Highway 24 Corridor Study. Warner said the distribution was based on what was paid in, and was attributed to a percentage of Ft. Riley's growth. He said a total of $200,000  was coming back to the region.
According to Warner, Wamego was one of the original 6 charter members of the Regional Council, and there are now 21 members. He noted there are plans for an Economic Development District and forming a Regional Planning Organization. With this, a Comprehensive Economic Development Strategy would be developed, which will allow Wamego to apply for available funding they could not do on their own, because everything must run through an Economic Development Plan.
Warner closed by saying the Flint Hills Regional Council is trust-building collaborative work, and good things are happening.
There are new EPA (Environmental Protection Agency) regulations that could impact Wamego.  City Manager Page updated the Commission on a regulation known as RICE/NESHAP, which stands for Reciprocating Internal Combustion Engine/National Emission Standards of Hazardous Air Pollution. This EPA regulation affects combustion engines over 300 HP (horsepower) and will affect Wamego's power plant.
Page said the final rules won't come out until December, but with the preliminary evaluation, Wamego may need to retrofit 5 to 8 of their existing units with catalytic converters, which will be very costly.
With the recent purchase of a new engine, Wamego is in the process of building an addition to the Power Plant to house the new engine. Before construction can begin, the contractor is waiting for formal documentation from EPA, to see if the new engine will meet the RICE/NESHAP standards. Page said this could impact the new engine/construction project.
Page also told Commissioners the Children's Park Train has shown good numbers for this year. According to the engineer's report, the first season was very successful, with over 5,800 riders from April through August. Operations were suspended in July because the excessive heat caused rail expansion, but the August numbers were good.
In other business, the Commission approved the Monday before Christmas as a legal holiday since Christmas falls on Tuesday this year. This does not apply to New Year's.
Page reported the sales tax numbers remain strong, with the city numbers up 7 point 9 percent, while the county-wide numbers show a 2 point 6 percent increase, compared to the same time last year.
Director of Operations Mac Campbell reported the Julie Drive construction is on schedule with a few bumps, and the Automated Meter Reading Water systems are 37-percent complete.