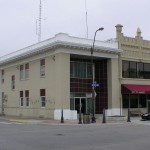 Wamego's apparently in a position to save some serious money. At Tuesday's City Commission meeting, City Manager Merl Page went over how the Public Building Commission (PBC) functions for facilities owned and operated by the City through the issuance of bonds.
According to Page, PBC issued $1.85 million in bonds to renovate the city-owned hospital, and under the terms of the issuance, there is a redemption period that allows PBC to call the outstanding debt. Since the Wamego City Hospital Board uses sales tax dollars to retire the bonds, they will be in a position to retire the debt balance of 1.4 million plus interest by December 1st. Page said by redeeming the bonds early will save over $250,000  in interest. The Commission made a motion to move forward and retire the bonds.
In other business, the Commission gave their approval for City staff to formulate a list of equipment, no longer in use, to be disposed of. And, approval was given for Helen King to paint a children's mural in the Wamego Public Library. The project will be paid from donated memorial funds.
A citizen-issue was resolved after bringing it before the Wamego City Commission.  City Manager  Page introduced Teresa Krouse, who went over a utility issue that happened back in June. According to Krouse, an electrical line went down in her yard, and the City crews responded immediately, but in the process of trenching to run the utility underground, the crew severed the tap root on one of her silver maple trees causing its death. The City agreed to remove the tree, but Krouse was asked to sign a release absolving the City of damages that may result from the tree removal , and she had a problem with the language.
After a brief discussion, City Attorney Jake Pugh will "ratchet down" the language of the release to something all parties can agree to. Page said the City will contract out the tree removal , and assured everyone the job will be done in a professional manner. Krouse said this was all she was asking.
Wamego is apparently a pet-friendly community.  Wamego High School teacher Tammy Biswell and Family, Career and Community Leaders of America President and Student Jenna McCown came before the Commission asking for support and approval for a Dog Jog to be held in October. This event will be a fundraiser for the Pott County Caring Hearts Humane Society.
Biswell went over the highlights of the event, and asked permission to begin the event in the City Park and to use the Shelter House as the registration point. City Manager Merl Page said an event like this is a joint effort with the event planners, the street crew and the Police, so everyone has a safe and fun time. Approval was given to proceed.