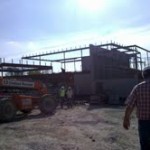 The Pottawatomie County Commission held their weekly meeting Monday.
Buck Driggs, SMH Consultant Vice President, brought in news that they are looking at a total completion of the building to be about 40 percent at this point and everything is looking on schedule as the weather has be holding out.
Jason Oxford, Assistant Coutny Attorney, brought before the commission that the horse animal cruelty case will have its first round of trials starting next Monday.  There was some discussion as to why the five individuals weren't consolidated, but concern for room was an issue that helped to separate them.  With the cases coming before a judge next week, Oxford declined to comment more on the case at this time.
A public hearing was also held for the annexation into the Blue Township that made the commissioners switch hats for a while as they took the role of the sewer district board.
Leu Lowrey, public works director, presented the information and with no comments from the public, the board switched back to commission mode and approved the annecation for Shilling Construction.