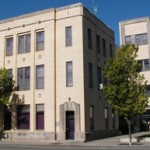 Executive Director of the Flint Hills Regional Council, Ty Warner recently announced his resignation.
Warner will be leaving the position  to accept a RPO position in Indiana.  This announcement was made by Planning/Special Projects Director, Monty Wedel at Thursday's Riley County Commission meeting.
Before coming to the council, he formerly provided community assistance, regional collaboration, and participatory workshops for a population of eight million across 284 municipalities as a Principal with the Chicago Metropolitan Agency for Planning, the regional planning agency and Metropolitan Planning Organization (MPO) for northeastern Illinois. He also served as adjunct faculty at the University of Illinois at Chicago in the College of Urban Planning & Public Affairs, teaching graduate courses in public participation and engagement.
Commissioner, Karen McCulloh responded by saying "this is a great loss, he will be tough to replace".
Manhattan City Manager, Ron Fehr presented a general update to commissioners about the K-18 changes.
Some of the traffic adjustments Fehr mentioned included:
Traffic coming from Fort Riley will not be able to access Scenic Drive from Eureka Drive during this phasing of traffic. Traffic coming from Fort Riley to Scenic Drive will need to take K-18 east to Scenic Drive where they will then be able to take a left and go north on Scenic Drive.
The new Scenic Drive alignment will be open. Southbound Scenic Drive traffic will travel through the two roundabouts and over the bridge that spans K-18 to the existing K-18 lanes where they will then be able to turn right only towards Odgen.
Eastbound K-18 traffic will now be able to turn left (or north) onto the new Scenic Drive as left turn lane on K-18 was installed. The detour that was in place for Scenic Drive will be closed.
Traffic heading east on Eureka Drive will only be able to make a right hand turn to head south on Skyway Drive to Murray Drive in the Business District area where they can then turn right westbound K-18. Eureka Drive traffic wishing to access eastbound K-18 will need to proceed west on K-18 to the 56th Street interchange where they can then get back on eastbound K-18 towards Manhattan.
Fehr also mentioned a meeting on November 27th that will discuss possible further restrictions on fireworks in Manhattan.  Wichita currently has a six foot policy, where no fireworks that shoot up over six feed in height can be fired.  Fehr said this is one law Manhattan is considering adopting.
Noxious Weed Director, Dennis Peterson was also in attendance at the meeting to give a staff report, as well as County Appraiser, Greg McHenry who gave an office report regarding annual reviews and notice of values.