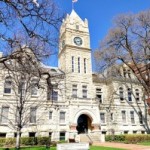 A Fort Riley soldier is going to trial for first degree murder after his preliminary hearing Wednesday.
Daniel Parker is charged with the murder of 21 year old Frederick Beverly on New Year's Day of this year.  Beverly was shot in the head just outside a local motorcycle group's clubhouse off of Fort Riley Boulevard.
Prosecuting Attorney, Barry Disney began the hearing by calling Roy McKenney-Davis, who was in the military with Parker, to the stand.  McKenney-Davis, as well as the second witness, Terrance McKenney, gave details about the Assassin's Street Rider's Motorcycle Club, which Beverly was a member of.
The third witness, Danielle Yordy gave addition details regarding the vests the club members wear and how to become a member.  Yordy was the official photographer for the club at the time of the incident, and took the last picture of Beverly just a half an hour before the shooting took place.
Riley County Police Officer, Steven Gregoire also took the stand to share details about the scene upon his arrival.  Disney had Gregoire identify and explain over 40 different pictures, diagrams and pieces of evidence.
Brian Runyan, who was employed with the RCPD at the time of the shooting, explained a video of Parker's car on the night as well.  The video showed Parker's car moving one direction, turning around and going back to the gate of the clubhouse, and opening fire.  Runyan also commented on a map explaining four different positions.  The first position showed the place Beverly died.  The second and third positions showed the cell phone towers nearby that Parker's calls were "pinging" off of.  The fourth location was a grocery store Parker purchased items from shortly after the incident.  All of the four positions are in close proximity to one another.
Shawn Roehan, who is currently being held in Geary County for parol violation in an unrelated case, also gave his testimony about what he saw during the shooting.  Roehan explained that he drove his Chevy Trailblazer to the clubhouse and parked outside.  He heard a vulgar statement made from a man in a car, and saw shots being fired.  Roehan said he heard "well over 15 shots" fired and the police came to his door two days later, due to his tags being reported at the incident.  Parker's Defense Attorney, Ronald Evans argued that Roehan did not see who the man in the car was and did not see the tag number on the car that the bullets were coming from.
In the closing statements, Disney asked that Parker be charged with first degree murder, as well as criminal discharge of a firearm into an occupied dwelling.  Evans asked that the court consider dropping all charges.
Parker's arraignment will be held on November 26th at 9 a.m.