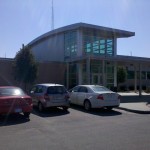 The woman arrested in connection with the parental custody case that occurred earlier this month is officially confined.
As KMAN previously reported, the RCPD and the Topeka Police Department, located the missing three-year-old, Benjamin Chavez-Birdwell with his mother, Sonja Birdwell, at a residence in Topeka.
Riley County Police reported Wednesday that Sonja Birdwell is currently being held on a $10,000 bond for aggravated interference with parental custody.
—-
A Manhattan man is currently being held in Riley County jail and is waiting for possible extradition to Texas.
Devoris Newson,26, was arrested around 9:30 a.m. Tuesday morning.  Riley County Police reported Wednesday that Newson has been charged with aggravated sexual assault and aggravated kidnapping in El Paso, TX on February 5th of last year.
Newson was previously confined on a $20,000 warrant, but his bond increased after being charged with these two counts.
Newson's bond is currently set at $120,000  in El Paso, and he is currently confined here in Riley County waiting to be extradited.
—-
One child had a shocking surprise on Monday morning.
RCPD reported Wednesday that a lewd and lascivious incident took place in Northeast Manhattan.  Police received a report of a white male exposing himself in a residential neighborhood.