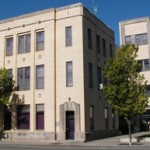 Dick Edwards Ford and Jay Cooper Shawnee Mission Ford both submitted bids for the 1 1/2 ton 4×4 truck needed for the Public Works Department.  The bids were reviewed at the Riley County Commission Thursday meeting.
The first bid, from Dick Edwards Ford here in Manhattan, was  for a Ford flat bed and a gas engine truck for $36,723.  For a diesel engine truck, their bid was $43,526.
Jay Cooper Shawnee Mission Ford, out of Shawnee, submitted a bid for a similar truck at $31,865.  To include diesel, the added cost would be an extra $7,376.
Vice President for Economic Development of the Manhattan Area Chamber of Commerce, John Pagen and Chamber Existing Business Manager, Trent Armbrust took the time to update the commission on the economic growth in Manhattan.
Pagen mentioned that Manhattan is still on the list of possible places to house the Kansas Department of Agriculture.  The list is getting shorter and shorter and Pagen expects that a decision will be made within the next couple weeks.  If Manhattan is chosen, this would provide more than 140 jobs in the area.
Community Corrections Director, Shelly Williams gave her monthly update and shared a new guide the department has came up with for offenders looking for jobs.  The guide is entitled "Bridging the Gap In Offender Workforce Development Services".  Williams plans to appear at a later commission meeting to share information regarding changes in visitation policies in Junction City.
Treasurer, Eileen King and County Health Department Director, Susie Kufahl also gave monthly updates from their departments.