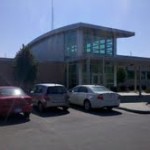 Multiple warrants lead to the arrest of a Manhattan area man.
Riley County Police told reporters on Tuesday that Joshua William Dixon(23) of 3212 Cloud Circle was arrested late Monday morning on charges stemming from several warrants.
Dixon had a warrant for failure to appear with an original charge of criminal use of a financial card for less than one thousand dollars, and a warrant for unlawful use of a cell phone.
There were also two other warrants for failure to appear with a motion to revoke parole , with one original charge of marijuana possession and the other charge of leaving the scene of an accident.
Dixon remains confined on a total bond of $5,159.
_______________________________________________________________
An accident involving a school bus sends two people to the hospital.
Riley County Police told reporters on Tuesday that around 3:00 Monday afternoon, a school bus driven by Marvin Rodriguez (70) was northbound on Sunset Avenue, just south of Claflin, and had stopped at a crosswalk to let a pedestrian cross the road. While stopped, the bus was struck from behind by a 2000 Pontiac Grand Am driven by Branden Helvie (17).
Two passengers in the bus,  Joane Merritt (76) and Leonard Castilow (17) were transported to Mercy Regional Health Center for observation. No information was available on Merritt but Castilow was treated and released.
Helvie was cited for inattentive driving.