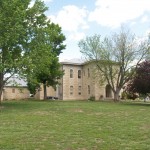 The sentencing phase for one part of the animal cruelty case in Pottawatomie County has come to a close as of Tuesday.
Derek Toy, 41, and Marcia Toy, 43, were sentenced to 12 months underlying on all 10 counts concurrent to each other.
The Toys were placed on supervised probation for 24 months and they were ordered to pay restitution in the amount of about $6,606.57, with court costs of $160.00, attorney fees upon their submission and other costs associated with the case of $457.19.