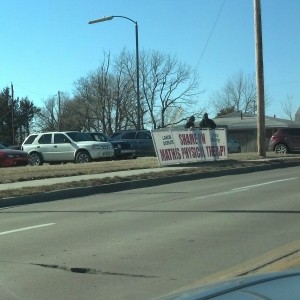 "Shame on Mathis Physical Therapy" reads the banner that has been put up outside the therapy center on College Avenue.  A local carpenter's union is protesting for the reason that non-union laborers were hired during the construction of the new office.
Although Dr. Jeffrey Mathis does occupy that building, he said he had no part in the construction process.  "The Manhattan Medical Center owns the building, they are the ones who hired all the contractors.  If they have a problem with how my building was constructed, they should contact Manhattan Medical Center", said Mathis.
The union protesting the center is the local carpenter's union #918.  They not only posted the banner, but are also handing out flyers with Mathis's name and a picture of a rat.  The flyers also give a phone number to call.  Mathis said he has tried calling and explaining to them "they have the wrong guy".
KMAN has attempted to contact Manhattan Medical Center, but the individual needing to be reached is not currently available. We will continue to bring you news updates as they become available.