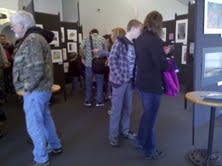 Over the weekend, the Manhattan Ogden Public Schools Foundation and the Beach Museum of Art teamed up to hold the fifth annual Early Expressions Art Expo.
Lining the walls of the art gallery and the extra stands held the almost 130 pieces of art work chosen by the judges.  This was only a small portion of the almost two thousand pieces that were originally submitted.
As an art filled weekend, Saturday gave the public and the families and friends of the young artists a chance to explore and wander through the array of pieces on display during the open house.  These art pieces ranged from work done by Kindergarten students all the way up to the 12th grade.
Sunday will feature the Gala and the auctions to help raise money for the foundation and for the arts program.
"We put that money towards activities that benefit art students," said Heather Lansdowne, secretary on the board of the Manhattan Ogden Public Schools Foundation.  "We've supported programs that sent students to the museum field trips in Kansas City.  We've, also, bought materials and equipment for arts programs."
Not only were there some proud families at the expo, but some proud and smiling students as they looked upon their artwork on display.
"It feels really cool," said Hailee Jackson, a senior at Manhattan High.  "I'm pretty proud."
For anyone interested in attending the gala, tickets will be available at the door beginning at 5:30 pm on Sunday, February 10.