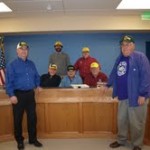 There was back-patting all around in Wamego.  At Tuesday's City Commission meeting, Airport Board President John Hupe went over the annual report for the Commission.  He said the board is in the process of updating the master plan, applying for a grant to have the runway resurfaced, and in the process of repairing the aprons.  He added there is some interest in new hangers because the existing ones are all occupied, and there's increased general aviation activity since the 'jump' club was ousted last year.
City Manager Merl Page told the Commissioner's, the Airport is 'worth a look' because the overall  appearance has improved so much in the past year. 
In other business, Wamego Housing Authority's Executive Director Joni Chrest gave highlights of the year, and said there are no vacancies, with 12 families on the waiting list.  One major change, the Housing Authority board  voted to join a consortium, which involves  Atchison Housing Authority's Sherri Swenson assuming some of the regulatory activities of Wamego's Housing Authority.  This will free Chrest up to concentrate on day-to-day operations. 
Mayor Bill Ditto and the Commission thanked both authorities for their outstanding service to the community.
—-
Wamego officials had a rare experience.  At Tuesday's City Commission meeting, City Manager Merl Page said he'd received correspondence from Architect Bruce McMillen, with a change-order request from Danker Roofing, the contractor for the Columbian Theatre and Fire State roofing projects, reducing the contract amount by over 16-thousand dollars, a 15 percent decrease,  because not all the contract specifications were required.    There was unanimous approval.
In other business, Page said the State of Kansas changed the language regulating day care centers, and introduced an ordinance to change Wamego's regulations to mirror the State's.  He said the new ordinance would apply to all zoning jurisdictions.
Wamego Bank Executive Dwight Faulkner was appointed as a new member of the Wamego City Hospital Board, and sworn in by City Clerk Shanda Jahnke.  His term will expire December 31st of 2015.
Page said the sales tax numbers for both the city and county-wide are up compared to last year.  The County is up 4 percent, while the City is up about 8 percent.