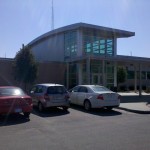 Stemming from an out of district warrant, Moriah Buster, 26, was being held on a $7,500 bond here at the Riley County Jail.
The warrant originally came from Johnson County and original charges are unknown.
—-
A report of a lewd and lascivious offense was made Thursday afternoon in the 600 block of Tuttle Creek Boulevard.
A citizen contacted the Riley County Police department around 12:30 pm reporting a white male was seated inside a vehicle having inappropriate contact with himself.
The citizen reported the vehicle as a four door blue or teal Hyundai with a Texas Licence plate.
The suspect, however, was gone before police arrived on the scene.