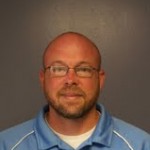 Riley County High School principal, Eric Swanson has tendered his resignation at the conclusion of the 2012-2013 school year.
Swanson has served in his current role for six years, implementing positive student/academic changes.  One of those changes, included the organization of Student Intervention Teams (SIT) to identify and serve at risk students and families.  Other changes included, the freshman orientation program to aide in the transition from middle to high school, induction of Advance Placement (AP) courses and establishment of a daily parent/staff communication email outlining pertinent daily and upcoming activities.  In 2009, he was recognized as the KASSP Regional III Principal of the Year Honoree.
His resignation letter contained, "I have enjoyed my time here as principal, but have realized that my passion lies in teaching in the classroom and teaching on the basketball court".  Superintendent Brad Starnes stated, "Eric has done good things for our high school.  I respect his desire to follow his passion.  USD 378 Riley County schools wish Eric and his family best of luck.  They will be missed".
The opening will be posted immediately and a replacement interview schedule will be established.