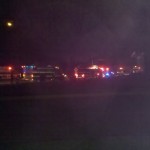 Update: The Manhattan Fire Department has released more information regarding a structure fire on Anderson Avenue KMAN first told you about Friday morning.
When fire crews arrived at the scene, they found a heavily involved one-story residential structure. The fire reached a second alarm before it was contained within approximately 45 minutes. Six fire apparatus and 21 firefighters responded with the last units clearing at around 11:00 p.m. Traffic on Anderson Avenue had to be closed for approximately four hours.
The house was being remodeled and was vacant at the time of the fire. Loss is estimated at $10,000 to contents and $80,000 to the structure. The owner is listed as Ronald Frank of Salina, KS. The fire cause is under investigation at this time.