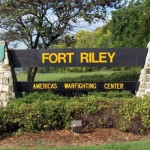 The 1st Infantry Division headquarters will officially mark its return sometime early next week to Fort Riley after successfully completing its first deployment to Afghanistan. Maj. Gen. William Mayville, Jr., and Command Sgt. Maj. Charles Sasser, Jr., the division's commander and senior noncommissioned officer, will uncase the division's colors during a ceremony at the post's Victory Park.
Nearly 700 staff members and Division Headquarters and Headquarters Battalion Soldiers deployed last March for Afghanistan, where the unit took command of Regional Command – East.
Operating as Combined Joint Task Force-1, the 1st Inf. Div. commanded and controlled RC-East, an area roughly the size of Virginia, which included 14 provinces, 7.5 million citizens and 450 km of a mountainous border with Pakistan. More than 1,000 Soldiers assigned to various 1st Inf. Div. units remain deployed throughout Afghanistan.
KMAN will keep you posted with details of the upcoming ceremony.