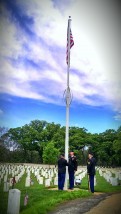 Soldiers, Gold Star families and local and state legislators gathered to observe Memorial Day on a muggy morning at Fort Riley's Post Cemetery.
"Memorial Day is a time to remember those who have fallen while defending our families, our homes and our freedoms," said Kansas Governor, Sam Brownback. "Let us honor their memory, not only with our words, but also with our lives."
Commanding General of the Big Red One, Major General Paul Funk was on hand and shared his perspective on how America's fallen should be remembered.
"On days like this, we often remember those Patriots who paid that final sacrifice; but we often, and mistakenly, focus on how they died," Funk said. "My friends, on Memorial Day, we should focus instead on how they lived."
According to Governor Brownback, over one million soldiers have died defending our country since the first Patriots took up arms in the 1770's.
So on this Memorial Day, take a moment to think of the men and women who fought with honor and bravery to protect The United States of America. Home.
"Lest We Forget"