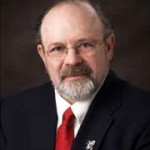 On Wednesday at noon, Jim Sherow officially filed as a Democratic candidate for U.S. Congress, 1st Congressional District of Kansas.
 Sherow is a well-known Kansas historian and former Manhattan City commissioner and mayor.
"I promise to bring back effective representation to the citizens of Kansas through cooperation in Congress," he said. "As one of the largest agriculturally productive districts in America, it is critical for Kansans in the 1st District to have a strong voice guiding U.S. agricultural policy."
In April of 2013, Congressman Huelskamp was stripped of his membership in the House Agriculture committee followed by his removal from the House Budget Committee.
"After more than three years in office, Congressman Huelskamp has not sponsored a single bill of any benefit to the citizens of the first district. Tim Huelskamp's ineffectiveness has deprived Kansans in having a say in the future of the state," he said.
"Bob Dole, Jerry Moran and other past First District representatives worked hard for the district and were respected nationally for their efforts. It's time to get the district back on track."