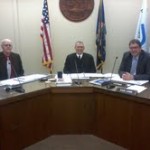 Department heads and outside agencies continue to make budget requests to Riley County Commissioners this week.  Several presentations were planned for Monday's commission meeting.
Community Corrections Director, Shelly Williams shared her hopes for the coming year for three different funds: adult services, juvenile services, and juvenile supervision fees.  She mentioned she expects an increased need for services in the coming years, as another magistrate judge will possibly be needed in the near future as well.
Williams shared a few statistics from the past six months, including that her staff members have conducted over 3,700 office visits with clients.
Other department heads that presented their 2015 budget requests included Emergency Management Director, Pat Collins and County Treasurer, Eileen King.
——————–
The meeting's press conference highlighted several upcoming events.
Public Works Director, Leon Hobson mentioned a public meeting will be held on Thursday, June 12th at 6 p.m. to discuss the McDowell Creek Road reconstruction project.
County Health Department Director, Brenda Nickel reminded local residents of the county public health assessment process that is scheduled for Wednesday, June 11th from 8-5 p.m., and encouraged members of the public to attend.