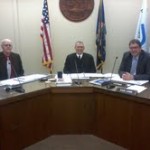 Around 5.5 million dollars of funding could be utilized for additional Riley County culvert, bridge and road projects.  During Monday's county commission meeting, Public Works Director, Leon Hobson presented the commission with a list of these projects.
Commissioners discussed the urgency of some projects over others.  Two that were discussed were the Fancy Creek road project and the Marlatt/Denison project.  The Marlatt/Denison project is a half mile project that involves making three lane roadways, a bike lane, an urban section and a sidewalk.
Instead of prioritizing the list during the meeting, commissioners asked that Hobson bring back additional information at a later date first.  They requested traffic counts, bridge ages, and the cost to re-deck some of the roads.  They also asked that Hobson check with the city of Manhattan on their thoughts about the timing of the Marlatt/Denison project.
———————–
Commissioners viewed an update on the McDowell Creek Road Reconstruction project, from Mark Bachamp of Olsson Associates.  Bachamp provided maps of the project, and mentioned they are looking to send the project out to bid in the fall.
During the meeting's press conference, Riley County Extension Horticulture Agent, Gregg Eyestone mentioned the Garden Tour will take place on Sunday, and County Counselor, Clancy Holeman invited everyone to the legislative breakfast in the commission room this Thursday morning.
————————
The first day of budget requests took place in the afternoon.  Several department heads and representatives from outside agencies made their requests to commissioners for the 2015 fiscal year.