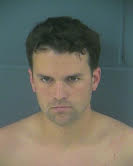 A 27-year-old Fort Riley soldier is being held at the Geary County Detention Center after an incident in the 2600 block of Deerfield Boulevard Saturday evening.
Junction City Police report a little after 6 p.m. JCPD was dispatched to that location in reference to the report of a domestic disturbance. Upon arrival it was learned the  soldier, identified as Kevin S. Guiler, was in the residence threatening to harm himself with a firearm.
After an approximately five and half hour standoff with ongoing negotiations, Guiler exited the residence and was taken into custody by law enforcement after a brief struggle. No injuries occurred during this standoff. Guiler was transported to the Geary County Detention Center, where he was held with no bond on the  charges of Criminal Threat, Aggravated Assault, Interference with Law Enforcement, and three counts of misdemeanor battery.
The Junction City Police Department was assisted during this standoff by the Geary County Sheriff's Department, Grandview Plaza Police Department, Kansas Highway Patrol, and the Junction City Fire Department.