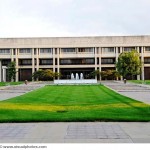 A decision just passed down by the Kansas Supreme Court has upheld a conviction of a man involved in a series of attacks in Riley County.
The court upheld the decision against Tony Tremayne Lewis, a soldier stationed at Fort Riley at the time, was convicted of attacks against three women in the spring of 2009.  However, the supreme court did vacate five life imprisonment sentences officials say were caused by a sentencing error, and now the case moves back to Riley County District Court for re-sentencing.
Lewis was convicted of rape, aggravated criminal sodomy, burglary, kidnapping, aggravated assault, aggravated robbery and other charges related to the three attacks. The general pattern for these crimes was that each victim was unknowingly followed to her apartment in the early morning hours after being out for the evening. Lewis challenged the convictions on multiple grounds, including failure to suppress his statements to the police, prosecutorial misconduct, and failure to suppress a victim's identification of Lewis as her assailant. The court rejected eawch challenge as a basis for reversing the convictions.
Lewis was previously convicted in 2010 in Geary County District Court of rape, aggravated criminal sodomy, and criminal restraint.
###
In other Supreme Court highlights Friday, a Riley County aggravated robbery case was remanded by the State Supreme Court for resentencing, Gregory O'Connor was convicted in a a 2009 case for aggravated robbery, burglary, possession of marijuana, and contributing to a child's misconduct. Judge David Sutzman presided in the case.
The case was appealed, with the Court of Appeals filing an unpublished opinion in February of 2012. The Supreme Court opinion from Friday reversed the court of appeals judgment, which had affirmed the district court. With the Supreme Court's opinion, the judgment of the district court is reversed in part, the sentence is vacated, and the case is remanded to the lower court with directions.
A unanimous Supreme Court found both Riley County District Court and the Court of appeals erred in classifying O'Connor's prior Florida juvenile adjudication as a person felony,rather than a non-person felony, by imporperly considering alleged facts not proved in the prior adjudication.