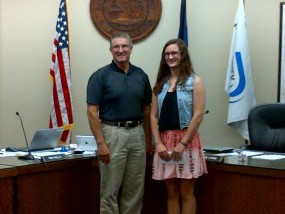 "I've been here since 1994, and this is the lowest it's ever been".  This was a statement made by Riley County Health Department Women, Infants and Children (WIC) Coordinator, during Monday's county commission meeting.
Ross was commenting on the case load numbers.  The case load requirements are established by the state, and are sent out in the WIC contracts every fiscal year.  The state requires that each program meet the case load numbers by at least 98%.
The program is currently assigned to reach 1,258 people in Manhattan, 2,154 in Fort Riley and 133 in Pottawatomie County.  Instead Manhattan is at 1,192 people, Fort Riley is serving 1,828 clients, and 125 in Pottawatomie County.
County Commission Chair, Robert Boyd asked Ross what types of repercussions could occur if they don't meet the case load requirements.  Ross answered by saying they could possibly lose funds, and they could experience a case load requirement decrease in the coming year.
Although this is not good news, Ross did mention that a majority of the state is in the same position.  As far as reasons why case loads are down, Ross said the low birth rate could be a contributing factor.  She added that other states have dropped their WIC programs, which could mean people here aren't aware that the programs still exist in Kansas.
During her presentation, Ross added that other programs in the area seem to be experiencing similar issues.  The Manhattan/Ogden USD 383 summer feeding program was recently suspended, in one location, after just a few days, for "low enrollment".
—————–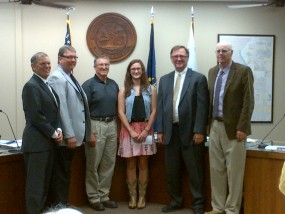 Noxious Weed Director, Dennis Peterson had the privilege of presenting a scholarship during the meeting, as he is this year's County Official of the Year.  The Kansas Association of Counties (KAC) scholarship was awarded to Emma Glessner in the amount of $1,000.
Executive Director of KAC, Randall Allen was also in attendance for the presentation.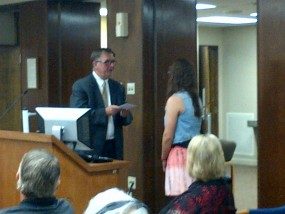 Glessner graduated from Riley County High School and plans to attend the University of Kansas this fall to major in speech pathology.