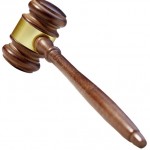 A Leonardville man appeared in Riley County District Court Monday afternoon for sentencing on four felony drug charges, and one misdemeanor.
Tyson Strauss (30) made a final statement by saying he apologizes for wasting the state's time and money.  He added, he used to race motocross and has been self-medicating, but he has since stopped and is on a better path.
Prosecuting State Attorney, Barry Disney asked that Strauss be sentenced to 15 months for the primary offense.
Chief Judge Meryl Wilson sentenced Strauss to 15 months, as requested, and granted him 18 months probation.  He also sentenced Strauss to six months for an additional offense, which will run concurrent with the first.