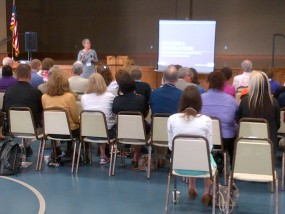 A large group of area officials met together all day Wednesday to discuss health during the Public Health System Assessment.  The event was held at the St. Thomas More Catholic Church on 2900 Kimball Avenue in Manhattan.
Prior to this assessment, materials were sent out to the attendees to view, in order to increase the understanding and familiarity with the items that would be featured that day.
The Riley County assessment used a nationally standardized tool to help the community answer around 200 questions about public health.
Results from the assessment will be used to help inform the upcoming comprehensive community needs assessment and improvement plan, and will be made public at the Board of Health meeting in October.
The large group of participants was split into four teams in order to tackle all of the questions.  Each group utilized cards to rate how well the area provides for each health need.