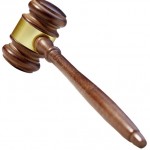 The woman that was charged in the first degree murder case, where John Burroughs (68) of Manhattan was found dead in his residence in September of last year, was sentenced in Riley County District Court Monday afternoon.
Christina Love (49) appeared in court to receive her sentence.  She faces charges including obstruction and interfering with a law enforcement officer.
Love first made a final statement, by saying that Burroughs was her friend for 13 years.  She added, "Had I known anything was going to happen, I wouldn't have went in the first place". She also said she wants his family to know she is sorry.
Prosecuting State Attorney, Barry Disney shared details within the plea agreement he and Love's attorney, Jason Hoffman, had prepared.
Love was sentenced to what Disney described as a "20 month controlling sentence", with 18 months probation afterwards.  If Love violates this probation, she will serve an additional 60 days.