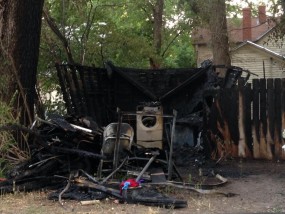 As KMAN previously reported, the Riley County Police Department along with the Manhattan Fire Department responded to a structure fire at 831 Colorado Street in Manhattan on Monday. This fire damaged an unoccupied residence and was ultimately extinguished by 6 fire apparatus and 17 firefighters. The fire was ruled by fire investigators to have been set intentionally.
On Wednesday, both agencies returned to Colorado Street in response to a fire at 823 Colorado Street. This structure fire was found to be on a detached garage of the residence and was also extinguished shortly after emergency crews arrived. Before it was contained it created damage to a vehicle as well. Four fire apparatus and 14 firefighters initially responded to this fire before it was contained within minutes.
Police and officials with the Manhattan Fire Department are now investigating both of these fires as arson. It was determined that there was a high probability that they were set intentionally by an unknown subject(s).
If you have information that could lead to an arrest please contact the Riley County Police Department, the Manhattan Fire Department, or the Manhattan Riley County Crime Stoppers. Those choosing to utilize the Crime Stoppers service may remain anonymous and could qualify for a cash reward of up to $1,000.00 dollars.