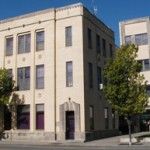 With the proposed increased flood insurance rates, Riley County Commissioners hope to bring these concerning issues to state legislators in the fall.
During Thursday's county commission meeting, County Counselor, Clancy Holeman informed the commission he has been in contact with several of the legislators about the possibility of a flood insurance rate summit.  He said Mondays in September appear to be the best times, with the 22nd as the most promising date so far.
Holeman sent several invitations out, and only one representative has yet to respond.
A date will be selected when it gets closer to September.
According to Commissioner, Dave Lewis, around 800 home owners will be impacted by the increased flood insurance rates-many of which will pay double or triple the amount they are currently paying.
—————–
The commission approved that the treasurer's office will close at 3:30 p.m. on Friday, August 1st.  They also approved that the office will open at 8:30 a.m. on Monday, August 4th.
The reasoning behind the Friday change is that many of the treasurer's office employees wish to attend retiring Treasurer, Eileen King's farewell reception.  King's successor, Shilo Heger will be sworn into office on Monday at 8:15 a.m. before the county commission meeting, which is the reason for the other change.