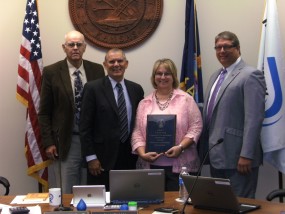 29 years of service will finally come to a close for Riley County Treasurer, Eileen King, as she heads into retirement effective August 1st.
During Monday's Riley County Commission meeting, King was presented with a plaque for her service.  County Commission Chair, Robert Boyd said a few words, and reflected on how King has shaped the office into a better place.
King said when she first came to the treasurer's office, everything was done by typewriter.
A retirement reception will be held from 2:30-5:00 p.m. on Friday in the county commission chambers.  The public is invited to attend.
The treasurer's office will close that day at 3:30 p.m.  King's successor, Shilo Heger will be sworn into office on Monday at 8:15 a.m.
———————
Kansas State University facilities were topics of discussion during two different agenda items.
Riley County Health Department Director, Brenda Nickel shared the renewal and contract options for the Child Development Center  facility.  She recommended the current rent rate of $2.77/square foot be raised to $10/square foot.
The commission came to a consensus that the recommendation sounded like a logical idea, and said they want to address the flooding issues on the first floor of the facility.
For the second item, County Health Department Emergency Preparedness Coordinator, Jason Orr presented the information.
The item involved a joint request for storage of EMS items at the Family and Child Resource Center.  If approved, room 113 at the center would be utilized for EMS storage.
The commission approved this item unanimously.