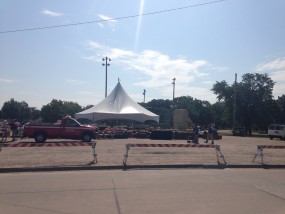 The sixth annual Furniture Amnesty Day event held Friday stayed cool under a large white tent that housed furniture donated from around the community.
The purpose of the event is to help the community dispose of used furniture in a way that is beneficial to others.  People were invited to come and register for a pick up time when they could find a piece of furniture to fit their needs.  After 5pm the public was welcome to pick up whatever was left.
Scores of volunteers were on hand for the event.  Organizations like Hands-On Kansas State, The Konza United Way, Target, The Gap, and Frontier Credit Union helped load and unload vehicles with furniture, supply workers with cold water, and register those looking for new furniture.
A volunteer at the registration tent, Debbie Butler, said the morning was "chaotic, but fun…" and the line for donations at 8am was "half a football field long."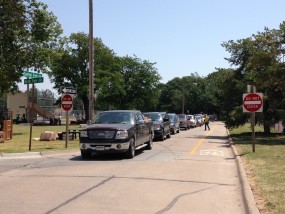 Cheryl Boothe, the Donor Relations Coordinator with the Konza United Way said, "The point of Furniture Amnesty Day is letting the community help itself.  People from all sides of the community donated and volunteered to help give furniture to people who have little to none in their homes, or even somebody who needed one thing they couldn't find anywhere else."
The weather was hot but people lined up waiting for their turn to check out the gently used furniture available for pick-up.  Couches, mattresses, box springs, frames, coffee tables, cabinets, and desks are a few of the items that were donated to the event.
Project Coordinator for Hands-On Kansas State, Lynda Bachelor, said people were lined up at 6 am to donate or sign up to pick up furniture.
The student coordinator for the Hands-On group, Mackenzie Mong, told KMAN, "It's cool to see it happen.  I handed out flyers and people recognized the couch, 'oh furniture amnesty day that's great.' It's such a cool way to recycle furniture and help the community."
Furniture Amnesty Day worked 291 volunteer hours, unloaded 91 vehicles, and processed 532 pieces of furniture in 2013.  While numbers have not been released yet for 2014 the turn out seemed the same if not better.
Cheryl Boothe said, "Last year was good, but this year is better."