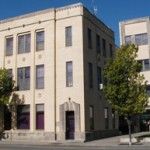 After a long interview process, a new Riley County Information Technology/GIS Director has been selected.
According to Human Resources Director, Cindy Volanti, the county commission made the decision to select current Director of IT Production Services at Lawrence Memorial Hospital, Kevin Howser as the new IT/GIS Director.  Although the decision was made a week ago, the action form was signed by the commission during Thursday's meeting, that officially approved the new hire.
Howser will start his new position on August 4th.
—————–
The Riley County Police Department could possible do away with the patrol car cameras in the future, in exchange for cameras attached to their bodies.
RCPD Assistant Director, John Doehling informed the commission that the "body cameras" would allow more mobility, and would likely catch addition footage that the patrol cameras currently cannot.  Since the cameras in the squad cars only face one way, they often miss footage that occurs at other angles.
The body cameras would be attached to the eyeglasses or hat an officer would be wearing.
Doehling said the department is still testing the cameras, and they have not yet decided whether to get rid of the patrol car cameras to replace them with body cameras, but this seems to be the national trend.
He shared a video of a recent training exercise involving active gunmen, where the body camera was utilized.
—————–
Other department heads shared staff updates, including Emergency Management Director, Pat Collins; Health Department Director, Brenda Nickel; and Register of Deeds, Debbie Regester.